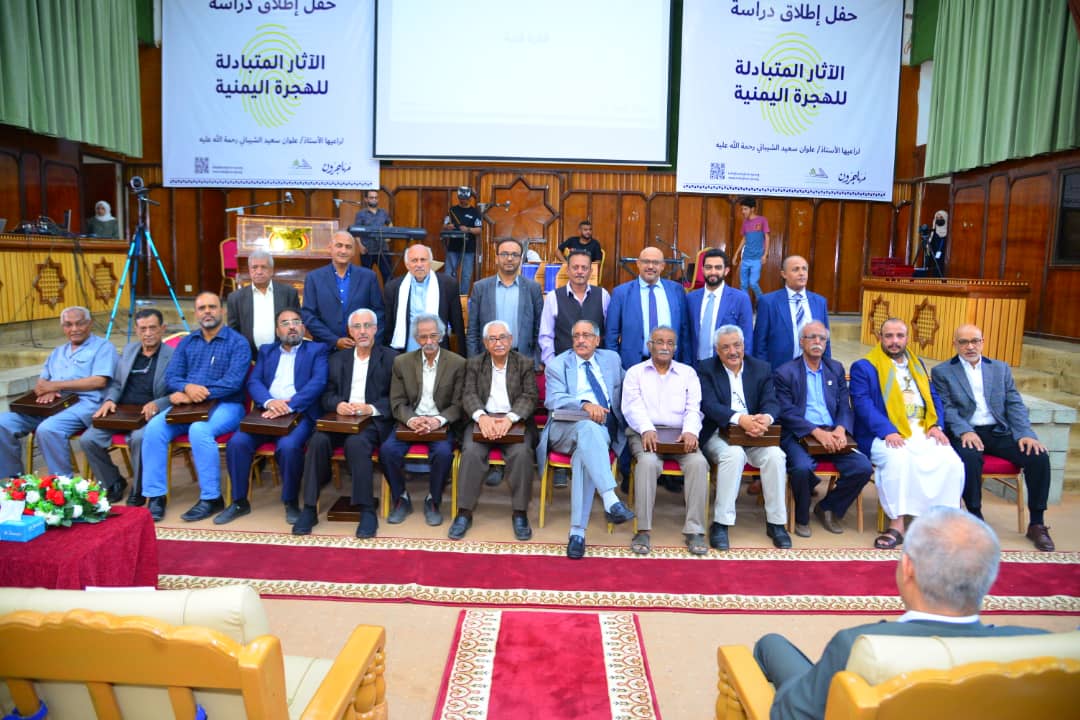 The Launch Ceremony of the Mutual Impacts of Yemeni Migration Study
2023-06-22
On Saturday, June 22, 2023, the study of "Yemeni Migration - Reciprocal Impacts" and its website were launched in Sana'a, the capital city of Yemen namely at the Conference Hall of the Sport Entertainment Club (formerly known as Police Officers Club). The idea of inaugurating and sponsoring this study goes back to the Late businessman, Mr. Alwan Saeed Al-Shibani, may Allah have mercy on him, the Founder and the Chairman of the Board of Trustees of Al-Khair Foundation for Social Development, the funding entity of the study, and the Chairman of Universal Group of Companies. This event was attended by Mr. Jamal Omar, the General Manager of Universal Group, Mr. Sadeq Al-Jama'ei, the General Manager of Al-Khair Foundation for Social Development, Mr. Bashar Wael, the grandson of Mr. Alwan Al-Shibani, and some of the major group managers, in addition to the study team, a group of literati, writers, intellectuals and prominent social figures.
The study "Yemeni Migration - Reciprocal Impacts" aims to highlight the significant role of Yemenis in migration and their impact both domestically and internationally. It also focuses on their economic, political, and social achievements and positive contributions, wherever they land or migrate. This study consists of nine parts that discuss the migration of Yemenis to all around the world - Asian, African, European, and American.
The ceremony included traditional songs on the subject matter of the study "Migration" and a presentation of a documentary video for the Late Mr. Alwan Al-Shibani talking about the study. In addition to the participation of some prominent Yemeni figures abroad remotely, and some members of the study team talked about their experiences relating to this study and read some of it. At the end of the ceremony, everyone who contributed and participated in this study was honored, starting from the main team of the study to the supporting team.