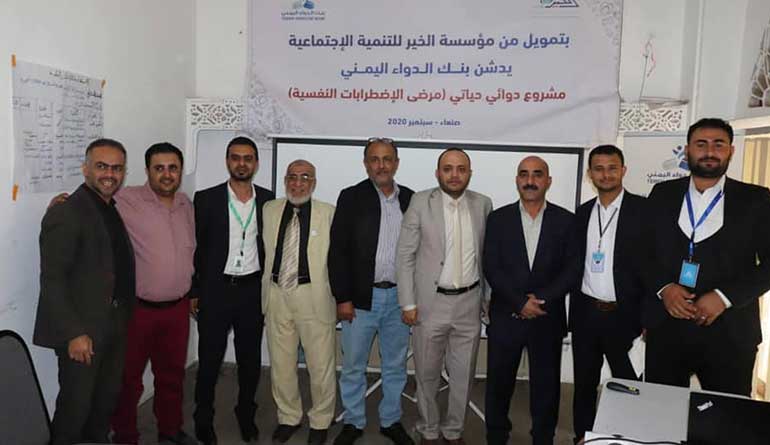 Medicine Supply Project to Support Mental Patients, Sana'a
2020-11-01
With funding from the Chairman of the Board of Trustees of Al-Khair Foundation for Social Development, Mr. Alwan Al-Shaibani, the "My Medicines My Life" project for patients with mental disorders was launched, Tuesday, 1/9/2020, which is implemented by the Yemeni Medicine Bank. The project will provide medical supplies to 51 poor and most vulnerable patients in Sana'a City, for a period of 12 months, starting from September 2020.
The project will also provide psychological support sessions and provide health awareness and education services to beneficiary patients, in addition to providing opportunities for economic empowerment for the children of patients. In his speech, Eng. Sadiq Al-Jumai - Director General of the Foundation - expressed his thanks and appreciation for the efforts made by the Yemeni Medicine Bank to implement this project, which targets one of the most silent groups suffering from deprivation in society due to their inability to bear the costs of medicines due to their high prices. He sends his appreciation to the members of the Board of Trustees of the Yemeni Medicine Bank, its executive director, and its employees.
Stressing the importance of this cooperation between the Foundation and the Bank, the Chairman of the Foundation's Board of Trustees, Mr. Alwan Al-Shaibani and his deputy, Mr. Jamal Omar gave a set of instructions, and then wished all success in various humanitarian projects in the interest of the various disadvantaged groups in society.
He concluded by addressing the beneficiaries: "We are providing what is right for you, obliged from us as a society".