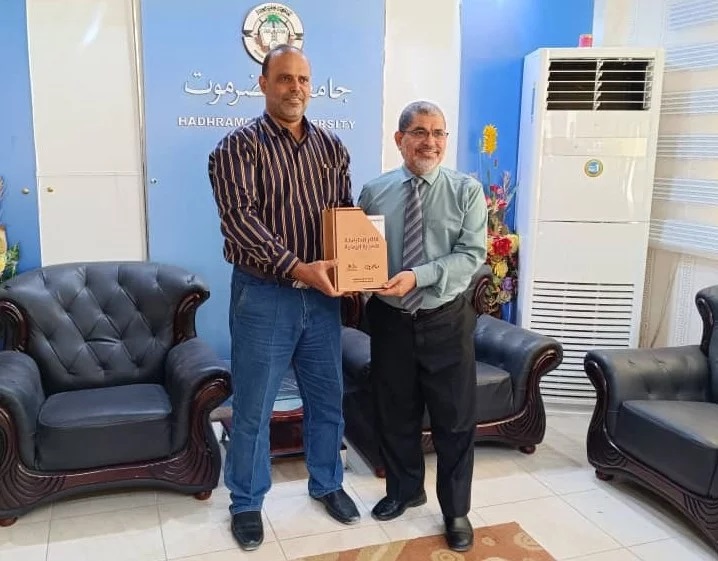 Hadhramout University President Receives the Study of Yemeni Migration – Reciprocal Impacts
2023-09-24
Prof. Muhammad Saeed Khanbash, President of Hadhramout University, received a copy of the study " Yemeni Migration – Reciprocal Impacts ", where Dr. Abdullah Muhammad bin Thalab, a Member of the study team, presented a copy of the study to the Hadhramout University President, and Dr. Saeed Salmeen Belafair, Dean of the Education Faculty in Mukalla.
Furthermore, copies of the study were also presented to the Faculty of Arts and Humanities at Hadhramout University, Seiyun University, Hadhramout Center for Historical Studies, and some cultural institutions in the governorate.
Hadhramout University President praised the efforts made by the study team, mainly the team from Hadhramout led by Dr. Saleh Abu Bakr bin Al-Sheikh Abu Bakr, Dr. Ahmed Muhammad Al-Saqqaf, Dr. Abdullah Muhammad bin Thalab, and Dr. Sadeq Ahmed Maknoon in preparing and collecting the historical data and information that will benefit researchers and university students. Several professors and researchers from Hadhramout, including Dr. Muhammad Saeed Dawood and Dr. Iman Omar Lahmadi, commented on the contents of the study.